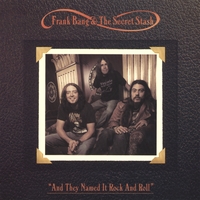 Here's the scene. Saturday night. Small town. Wal-Mart parking lot. Musical epiphany.
Ok, so the Wal-Mart parking lot may not be your ideal location for musical epiphanies. But if you live in a small town, have kids, or are really bored, you realize that Friday & Saturday nights often revolve around a Wal-Mart parking lot. So my wife has to go to Wal-Mart and (as I often do because I hate that over-priced Chinese junk joint), I opt to sit in the car with my son. As my wife exits the car, I think "the Saturday Night House Party blues show is on WNCW" and quickly change the radio station. For those of you that don't know, WNCW is THE public radio station in Western North Carolina. It's the only light of hope in the middle of radio nowhere (to quote a Springsteen song).
So I'm sitting there chilling to some blues tunes. The next thing I know, this gritty, raw, stinking, sexy, shake your booty, make-your-momma-blush music starts oozing out of the speakers. Those speakers have never been the same again. The guitarist kept grooving and the rhythm section kept chugging until I was afraid it might swallow half the parking lot. And then, like flipping a switch, the whole monstrous thing slipped back into a sweetly smooth 12-bar blues beat. Finally, the ride was over and I held my breath waiting for the dj to help me understand what in the hell just happened. "And that was 'Cry Out Your Name' from Frank Bang and The Secret Stash". Frank Bang? So at least I had a lead now. But what the hell was it?
Monday came around and I couldn't wait to do a Google search on Mr. Bang and his Secret Stash. Comes to find out that Jimmy Page and Buddy Guy had a baby and they named him Frank Bang (thank god because his mother might have named him Francis Blinkal or something).
This guy has played with some of the best blues musicians in the world and he is the real deal. Frank is the definition of what modern blues-rock should be. Unfortunately for us (and especially for him), he is virtually unknown to the blogging community and not even a blip on commercial radio's radar. Click the link below to go to cdbaby and buy Frank's latest cd, "And They Named It Rock And Roll". Then you too can actually find happiness in the Wal-Mart parking lot.
Here is a taste of what Frank does live:
Frank Bang And The Secret Stash
Live at the Orange Peel, Asheville NC May 25, 2007
Stay tuned for more Frank Bang info in the near future!